When Bob Tanner and others started Mule Days 42 years ago, it was 1969, the year of the huge snow, and they needed an to sustain Bishop. Mule Days grew to a major money-maker for the area only to find itself faced with panicky news this year about a deadly horse virus. Tanner called the virus scare "over-reaction", and he said, "It's fortunate we're going ahead."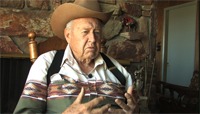 As President of the Mule Days Committee, Tanner said a lot of stock in the west have not been exposed to the equine virus. He said the ailment is not totally new. In the void created by horse and mule owners who do not want to travel with their animals, Tanner's Reds Meadow and Craig London's Rock Creek pack stations will provide mules and horses to fill in shows and other needs.
As Tanner pointed out, that's what they did at the start of Mule Days, and they're still here to hold up the event. Tanner also sees a plus in the change of mule shows this year. He said it will get back to the "wild and woolly" shows of the old days. He said over the past 40 years the shows have grown so sophisticated that they have lost some of the excitement. "This is a chance to break the pattern," he said. He called it better for the spectators, who are the focus of the event.
"The fun of Mule Days has made it successful," he said. "It's not about perfect horse shows." Tanner also pointed to the major fundraising Mule Days does for countless local groups. "We can't afford to let this go," he said.
A veteran pack station owner and Mammoth Lakes developer over the years, Tanner has seen a lot of changes in the Eastern Sierra and believes in the longevity of Mule Days.