Robert Clayton Harvey, Jr.
1926 – 2016
Robert C. Harvey Jr., passed away on Thursday, July 7th, at the age of 90.  He was born on June 7, 1926 in Hunter, North Dakota.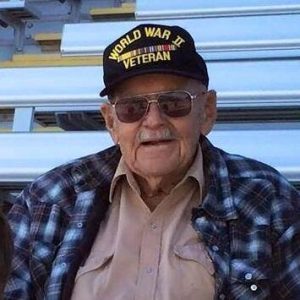 Bob's  family moved to Lee Vining when he was a young boy and they owned the Mono Lake Dairy.  He and his brother delivered milk before school.  Bob attended Bishop High School and in his junior year left to join the Navy during WWII.  He served on the Buckingham APA 141, a troop transport ship. His time in the war was spent in the Pacific.  Bob returned to Bishop and worked at the Saw Mill, in construction and the Silver Lake Pack Station, where he loved showing people the beauty of the back country.
Bob married Patricia Talbot in 1948.  Her Dad and Uncle, Ralph and Clark Talbot, bought the Howdy Smith ranch in Big Pine where Bob and Pat lived and worked until 1966.  They had two children, Cyndi and Bobby.  Bob started working at the Big Pine Unified School in 1966 as a bus driver and maintenance worker.  He was well loved by students and teachers alike.  To the end, "Harv" loved telling the stories of taking students on sports and other trips.  On one softball trip to Baker he had to take over coaching while coach Bob Church had to take a girl to the hospital.  They won the game and Bob promptly retired with a winning record.   He retired from the school in 1988.  Bob considered it a great honor when they named the Big Pine Gymnasium after him in 2001 – the Bob Harvey Gymnasium.
After retirement Bob worked at Crowley Lake Fish Camp for 15 years, where it was a common sight to see him plowing through waves at high speeds with a hat on backwards to get to a prime fishing spot in between shifts. Fishing was one of the passions of his life.  He loved fishing with his buddies and grandkids, camping, being a cowboy, woodworking, treasure hunting, storytelling, having coffee with his friends at Hing's Donuts and breakfast with Mundo, and was always busy working on some project.  He loved the Owens Valley and explored every corner of it.  Bob loved his family above all else.  He was well known for being a friend to everyone he met as well as his sense of humor and a wonderful smile that even won over the nurses in his last few weeks of life.
Bob was preceded in death by his parents, Robert and Mabel Harvey; his sister and brother, Dorothy Baker and Gale Harvey, his grandson, Rahn Harvey and former wife Patricia Vaughan and partner Ruth Parks.
He is survived by his daughter, Cyndi Nelson of Big Pine, his son, Robert Harvey, III, his grandsons Ryan Harvey, Jesse Steele and Daniel Morgan and his granddaughters Amber Tietjen, Amity Cox Swain and Amy Cox Metlitzky, great grandchildren, Taylor and Kiley Tietjen,  Owen, Weston, and Bodin Morgan, Rilke and Rowan Swain, Arik and Raya Metlitzky, brother-in-law George Talbot, sisters-in-law Marlene Talbot and Zelda Harvey as well as numerous other beloved family members and friends.
Services will be announced at a later date.