Robert Lee Calloway
8/4/1940-4/24/2017
Bob Calloway lived the entirety of his life in his beloved town of Big Pine. He married his high school sweetheart, Pat Gunnoe in 1960, and they started their family a year later, celebrating their 56th wedding anniversary last June. Everyone who knew Bob will remember his outgoing spirit and his genuine care and concern for all he met. He was a man who would literally give you the shirt off his back. He delighted in doing good deeds for others, especially if he could do them in secret.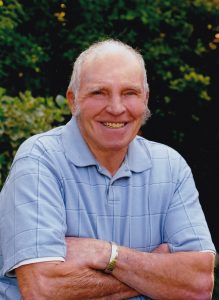 Bob loved to work and create. He started working at age 12 for Simmons Dairy in Big Pine, where he would round up the cattle, get them on the milker, and wash the bottles before going to school where Helen Lund had his late pass ready for him.
For many years after that, he worked for Jim Nikolaus at the Big Pine Chevron, and at that time added two sons to his family.
After the birth of his daughter, he went to work in road construction as a Laborer and never looked back. For 40 years he built roads, bridges, culverts… anywhere you look within a 150 mile radius, Bob had a hand in it.
He was especially proud of the work he did in Walker Canyon after the New Year's Day flood (a job that required him to live away from home. Pat would visit him weekly to re-supply and re-connect).
If you've ever been by Bob and Pat's house, you know he loved to garden. He was always trying new landscaping, and was happy to share tips and plants with visitors.
Another love of Bob's was putting together jig-saw puzzles. He was quite proud of the fact that he could put together a 1,000 piece puzzle in 2 days!
But by far, the favorite activity of Bob's was visiting with friends and family, enjoying a good meal, and telling stories of times past. Bob was an accomplished story-teller, drawing the listener in with his serious tone, impish grin, and a twinkle in his eye, that, at the culmination, never failed to leave his listeners overcome with riotous laughter! The stories never grew old in their re-telling. He loved his family with his entire being, and was loved in return just a fiercely.
Bob is survived by his wife, Pat, of Big Pine, his son David and wife Angie of Big Pine, his daughter Reva of Reno, NV, and his grandson Casey Lee of San Diego, CA. Also survived by daughter in law Denise (Bob Calloway, Jr) of Oregon, granddaughters Jenna and Caitlyn Calloway also of Oregon, brother in law Bob Gunnoe and wife Martha of Aberdeen.
Bob was preceded in death by his parents Reva Mae and Daulphus Calloway grandparents Ned and Ora Harvey, and son Bob Jr.
Funeral services will be held this Saturday, at 11 a.m. at the Big Pine Community United Methodist Church (where Bob, Pat, and all 3 children were married). Reception immediately following. Bob's family appreciates your thoughts, prayers, and any stories you would like to share, to which Bob would certainly reply "Good one."
Donations in memory of Bob can be made to the Big Pine Community United Methodist church or the Big Pine Volunteer Fire Department or the charity of your choice.