Robert Kendrick Bull, passed away on May 18, 2017 at the age of 93. Bob was born in Los Angeles, California on October 21st 1923 to parents, William Taylor Kendrick, Jr., a prominent Los Angeles criminal attorney, and Clarice Ure Kendrick, a former actress in silent films, having appeared in several Al Christy comedies.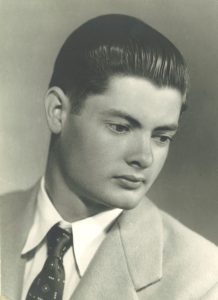 Bob grew up in Beverly Hills, California. He graduated from Beverly Hills High School and attended the University of California, Davis.
A World War II veteran, he entered the United States Army in 1942 and faithfully served his country for 3 years. He was stationed in the Philippines during his enlistment.
He went on to marry Virginia M. Sievering of Los Angeles, Ca., in 1951 and had 4 children, Deborah, Gary, Carolyn and David.
He spent the majority of his career with Prudential Insurance Company
located in the Miracle Mile in Los Angeles, California and enjoyed an early retirement at age 55, at which time he relocated to Carson City, Nevada.
In 2002, he again relocated to Bishop, California to be closer to his son, David, and to enjoy the beautiful scenery and the many fabulous fishing opportunities of the Eastern Sierra.
An avid nature lover, his children will remember the many weekend outings, camping and fishing trips we enjoyed together. Our gratitude goes to dad for instilling in us a love and appreciation of nature, animals and the great outdoors.
He will be greatly missed by his family and friends.
Our heartfelt appreciation goes to Sonja and Marilyn of Bishop, Ca for their many kindnesses to our father and to all others who assisted him with getting to doctor's appointments and running errands. May blessings visit you in return when the need arises.
Robert is survived by his daughters, Deborah Kendrick and Carolyn Kendrick of Glendale, California, his son, David Bull and daughter-in-law, Tina Bull of Bishop, California; nephew Robert McKenzie and niece, Susan McKenzie, step-grandchildren Fawn and Robert, and step-great grandson, Nick.
Services will be private.
Please extend an act of kindness toward someone else in memory of Bob.