PETS of the WEEK – August 9, 2012

MIRACLE 
is a 1-year old purebred blue roan Cocker Spaniel with one blue eye and one brown eye. He is a little doll and, if you've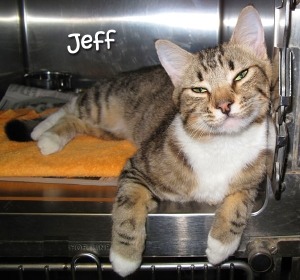 never seen a "blue roan" Cocker, you just have to meet Miracle!
JEFF
 is one cool kitty! He's a 10-month old Gold Tabby Tuxedo kitty-cat with bright green eyes and the friendliest disposition ever.
The Inyo County Animal Shelter has an amazing selection of adorable cats and lovable dogs. Please adopt one today. Visit in person on County Road in Big Pine or on-line at
www.ICAREforPets.org
. HOURS: Tuesday thru Friday, 10 am to 3 pm, Saturday and Sunday 11 am to 4 pm (closed Mondays). Phone 760-938-2715. 
Photos by Lisa Schade of ICARE