Blowing dust south of Manzanar Monday led to a four-vehicle accident that closed Highway 395 for a few hours. The Air Pollution Control District continues to investigate the highway widening project in the area to verify dust control measures by Granite Construction.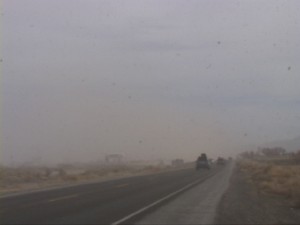 According to the CHP, a New Hampshire man headed south through the low visibility area of blowing sand on 395. A Bridgeport woman, Bernice Viss, was headed north. The New Hampshire driver drifted into the northbound lane due to poor visibility and collided head on with Ms. Viss' SUV. Both vehicles blocked the entire highway.
After that, a truck stopped behind Ms. Viss, but a truck driver behind him did not see the halted traffic and slammed into the back of the truck which then hit the back of Ms. Viss's SUV.
The whole mess led to the highway closure between Lone Pine and Independence. Due to the low speeds involved in the traffic collisions, no one was hurt. After the wreckage was cleared from the highway, the CHP escorted traffic through the blowing sand until about 5pm.
The Air Pollution Control District investigated the dust incident and said that Granite Construction had closed down work when the wind kicked up dust and that Granite had two to four water trucks trying to wet down the construction area.
APCD Director Ted Schade said that when a wreck is caused by dust, the district does investigate to make sure reasonable precautions were taken or a citation could be issued.