In Mammoth Lakes, residents will have their memories of Blondies Restaurant but not the building. The new owner of the Blondie's property informed the Town that building demolition will start Friday, October 30th.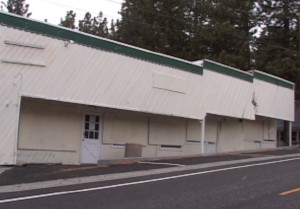 The utility companies will remove all connections to the building, and the contractor is ready to start. Before the actual demoliton gets underway, the Mammoth Lakes Volunteer Fire Department will use the building for training.
Town officials said that firefighters have made arrangements to conduct training Thursday evening. Demolition will start Friday morning. Firefighters will hack away at the roof, the walls and the floors as they would if a fire were actually burning in the building.
The excavator will stand by and the demolition work will start Friday morning. Crews expect to clear the site within two weeks.