Before the old Blondie's building in Mammoth fell to demolition, it served a very useful purpose – training firefighters.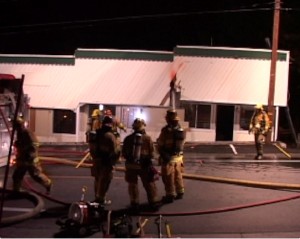 Cleland Hoff was there when Mammoth Volunteer firefighters set a controlled fire and approached the building as if it were for real. Firemen set up a heavy duty blower at the door and opened up a ventilation hole on the back of the building to blow smoke out.
They also cut a hole in which to spray water. Firemen said the water would convert to steam in the intense heat and put out the fire.
Cleland asked Mammoth Fire Chief Brent Harper about the use of the abandoned building to learn techniques. He said the use of the training exercise was very helpful and that firefighters who had not had the opportunity to participate in the firefighting scenario learned a lot.
The following day, demolition crews took the building down to the ground. Town planners say they have not heard of any new plans the land owner has for the former Blondie's space.