Remember the bear called Blondie who captured public attention last year with her serial break-ins? Mammoth Wildlife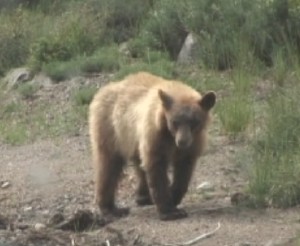 Specialist Steve Searles feels sure that the bear recently killed in the Lakes Basin was none other than Blondie.
Searles said last year Blondie made 51 home entries for food. Some of the break-ins were repeat homes. This year, she broke in more than a dozen times in the Lakes Basin and finally met her fate.
Searles pointed out that the dysfunctional situation last year dragged out the problem to this year. He said Blondie should have been put down last year. Searles said the problems with the Forest Service, Fish and Game let Blondie escape last year. Searles said someone should have put her down then.
Blondie disappeared last year but returned with a vengeance this year. She had developed a bad habit to smash windows or doors and grab food. Searles and the film company at work with home on Bear Whisperer episodes compared photos of Blondie last year and the bear shot and killed this year. Searles said there is no doubt in his mind that they are the same bear.
The whole situation with Blondie amounts to the "epitome of disfunction" said Searles. He said it was like "re-living a nightmare."