Mono County Sheriff's Office press release
The Sierra is currently under a Blizzard Warning through Wednesday morning. Continuous snow is expected through Thursday, with a surge of heavy snow occurring this evening.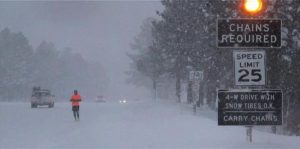 Snow accumulations of 3-6 feet along the crest and 1-3 feet on Highway 395 are anticipated. Winds of 150 mph are expected on ridgetops and 60-80 mph in the valleys and other wind prone areas.
Blowing snow will produce whiteout conditions with zero visibility and a high avalanche danger.
Do not attempt to travel as the blizzard conditions are dangerous and potentially life threatening.
Travel may be impossible with the road closures, which are listed on the Caltrans website.
Currently, Hwy 395 is closed from 1 mile north of the junction of SR 203 to Bridgeport. Chain controls are being enforced throughout the county.
The public is encouraged to stay indoors and not venture out while the Blizzard Warning is in effect. Wind and blizzard risks may decrease on Thursday, however considerable travel delays should still be expected.
As always, remember to check road conditions and the weather once the advisories have been lifted and it is safe to resume travel.