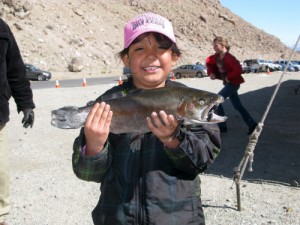 The 45th Annual Blake Jones Trout Derby is just around the corner – slated for Saturday, March 17th at Pleasant Valley Reservoir just north of Bishop.  Since the event lands on Saint Patrick's Day this year, event organizers are sure that they'll have good luck putting on the biggest and best derby yet.
The Bishop Area Chamber of Commerce & Visitors Bureau hosts the Blake Jones Derby and they are hopeful that more locals will join in the fun this year.  According to Tawni Thomson of the Bishop Chamber "It really is a good old-fashioned fun day for families that love to fish, plus we give away some amazing prizes!"
Prior to the derby, Pleasant Valley Reservoir and the Lower Owens River are always well stocked with Alpers and DFG trout.  The contest is a "blind bogey" competition, so everyone has equal chance to win.  Each registered participant may enter up to five fish and if any of the fish weights match the blind bogey weight, they'll be entered into a raffle to win great prizes.  There are categories for adults and kids and additional prizes are awarded for big fish, early bird entries and farthest travel to the derby.
Thanks to many generous co-sponsors including the County of Inyo, City of Bishop, plus many local businesses, winners will take home more than $10,000 worth of fishing gear, float tubes, tackle, gift certificates and cash!  Registration is just $15 for adults and $7 for kids under 12.
For the second consecutive year, the chamber has added a separate raffle offering a brand new Dave Scadden Sky Komish Pontoon Boat valued at over $2,000!  Raffle tickets are just $5 each or 5 for $20.  The Chamber will choose the winning raffle ticket at the Blake Jones Derby, but winner need not be present.
Tickets for the Sky Komish and derby entry forms are available now at the Bishop Area Chamber of Commerce, Culver's Sporting Goods and Mac's.
For more information, drop by the Bishop Chamber of Commerce, 690 North Main Street or call (760)873-8405.