By Deb Murphy
Rumors of the death of the Black Rock Fish Hatchery have been greatly exaggerated.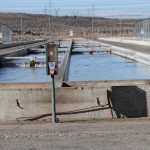 The hatchery is not closed and Jim Erdman with the California Department of Fish and Wildlife is not sure where the rumors came from.
Fish stocking operations are down state-wide, according to Erdman, but that's due to state budget reductions. Some Eastern Sierra hatcheries have been impacted by the drought, specifically those fed by natural springs, but Black Rock is alive and well.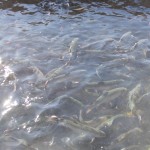 The department's stocking for the 2015 season has been cut by 40 percent, down to 352,000 pounds in the Eastern Sierra. Last year's plants, totaling 745,000 pounds, represented roughly 95 percent of the stocking in the area with the balance coming from supplemental stocking of, primarily, trophy size fish.
The Black Rock Hatchery was in the news last summer following the resolution of a dispute between Inyo County and the Los Angeles Department of Water and Power. The dispute focused on the impacts of LADWP groundwater pumping in the area of the hatchery, between Big Pine and Independence. The department agreed to reduce pumping for the hatchery to 8,000 acre-feet a year, a number that CDF&W agreed would be sufficient for hatchery operations.