Press release
The City of Bishop would like to congratulate the 2016 City League Basketball Champions High Country Lumber.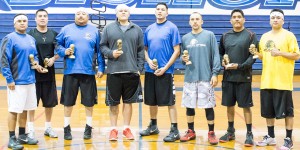 High Country Lumber had a winning season record of 8-0. The championship game was played against Sweetwater with a final score of 69-60.
In the picture from left to right, Troy Spoonhunter, Simon Barlow, Michael Allen, Joseph Chartraw, Topah Spoonhunter, Brad Weaver, Darrick Piper, and Danen Spoonhunter.