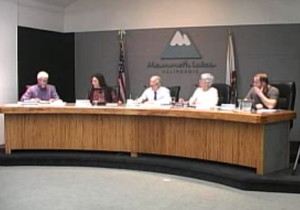 Because of low snow, community indicators show a 30% reduction in visitor activity in Mammoth Lakes in January, according to Interim Town Manager Dan Holler. He says in his report to the Town Council that "If the conditions do not improve, this is expected to continue for the rest of the winter season." Holler and his staff recommend that the Council acknowledge revenue increases from the first part of the fiscal year and a potential $1 million revenue shortfall for the second half of the year.
From June through November, Transient Occupancy Tax jumped up above budgeted numbers by $500,000. The good news ended there with a projected net drop in Town revenues, according to Holler and Acting Finance Director Cindy Myrold, ranging from $450,000 to $900,000. It's all uncertain from here through the winter. TOT is the major source of revenue for Town government. Usually most of that source comes from business in town from January to March, but with drought that won't happen.
The staff recommends a decrease of projected revenues by $1 million and recognition of several sources of revenue which add up to $1 million. The staff recommendations also ask the Council to authorize use of $300,000 of the Reserve for Economic Uncertainty, if needed. The goal is minimal impact on services and no layoffs. The Town Manager sees ongoing analysis of the situation, including a Mid-Year review. He says the primary assumption in preparation of a course of actions is that "the loss of revenue is a one-time drop and not a new financial base for Town operations."
The Manager and Finance Director will ask the Council to amend this year's budget to recognize the early increase in TOT and the $1 million reduction in budget projections for the rest of the year due to poor snow conditions. Officials will examine a number of balancing measures.
And once again, the Town Council will consider how to hire a permanent Town Manager – with or without consultants, with or without recruitment.