The $1 million project, paid for primarily with gas taxes, constructed new curbs, gutters, sidewalks, and a water main, improved drainage and water quality, improved pavement, and sewer repairs. New sidewalks to provide a safer path to the schools was also part of the reason for the project.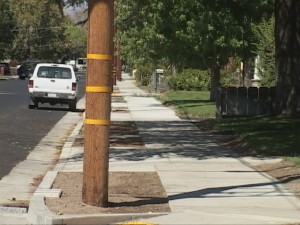 A new city water main was built the full length of Grove Street between the elementary schools and Main Street. A water line was also built on Hammond Street between Elm Street and Pine Street, and fire hydrants were added along Grove Street. Sidewalk improvements were made along Grove Street between Home Street and Main Street.
Public Works staff reports that property owners are now picking up the 80 trees provided for the project and should start planting them along the street soon. Property owners and residents are urged to landscape and then start to maintain and water the trees as soon as possible.