Total Solar Eclipse or Bust – Part Two
On August 21st, Americans will witness the first total solar eclipse visible throughout the contiguous United States since 1918. Passing from Oregon to the Carolinas, complete darkness will descend upon those viewing along the path of totality. Bishop's own Earth to Sky Calculus [http://earthtosky.net/] will be there, balloons in hand ready to capture first-of-their kind views of the eclipse from the edge of space.
Being over-achievers, Earth to Sky members will support teams launching from Oregon, Idaho, Wyoming, Nebraska, Missouri, and South Carolina. Each team will fly at least one balloon, equipped with cameras and data collection devices which will photograph the eclipse and collect solar radiation data. The teams will not only photograph the eclipse from different points along the path, but also collect and compare cosmic radiation data along the path of totality.
Earth to Sky has an adventurous spirit with international reach. Members Aaron Lamb, Ginger Perez, Mia Yarborough and Joey Harvey traveled halfway around the world to Belitung, Indonesia to view the March 9, 2016 solar eclipse. These members brought back ideas as to how to best photograph an eclipse from the edge of space. Each of these students will be a site leader at one of the launch sites during the Great American Eclipse [http://news.spaceweather.com/solar-eclipse-balloon-network/].
In addition to the Indonesian trip, Earth to Sky members have traveled the throughout the US sharing the skills other student groups need to start their own balloon launching groups. Student groups from Missouri, Maine and Kansas have all started ballooning programs at the tutelage of Earth to Sky members.
Now these groups are receiving additional training to get ready for the Great American Eclipse. In June, Earth to Sky members Anna Herbst and Ferris Molina traveled to Maine [https://www.facebook.com/pg/earthtoskycalculus/photos//tab=album&album_id=1380386632045295] to train students from Southern Maine Community College, some of whom will be joining the Earth to Sky team launching from Wyoming during the upcoming eclipse.
Last week, brothers Carson, Duncan and Spencer Reid—all former or current students at BUHS–flew to Kansas to teach a team of educators to launch a solar eclipse balloon.
Earth to Sky graduates have also taken their skills to college and formed chapters at their various universities. At this time, the group has grown to include Earth to Sky Maritime [https://www.facebook.com/Earth-to-Sky-Maritime-963299873744139/], started by Aaron Lamb, Earth to Sky Irvine, started by Joey Harvey, and Earth to Sky Cal Lutheran, started by Jamie Schultz. Earth to Sky Maritime has launched a number of balloons, including from the deck of a ship. This group invented and successfully tested a payload able to land in water and float until it is recovered.
Earth to Sky Irvine and Earth to Sky Cal Lutheran launched their inaugural balloon, resulting in a recovery that introduced members of Kern County Search and Rescue to our program.
Earth to Sky has even gone global. Earth to Sky member Cata Alonso returned to her home country of Chile after her exchange year in Bishop and started Earth to Sky Chile. She and her team members successfully launched from Chile and recovered their first payload, which landed in Argentina and provided unique radiation data about the South Altantic Anomaly.
Finally, members Carson Reid, Mia Yarborough, Anna Herbst and Jordan Herbst, joined Dr. Tony Phillips and his wife Katharine Allen in Abisko, Sweden [https://www.facebook.com/pg/earthtoskycalculus/photos/?tab=album&album_id=1284718634945429] where the group launched three balloons, two from Sweden and one from a Norwegian fjord, which captured the spectacular sights of the aurora borealis and the frozen Arctic.
Dr. Tony Phillips founded Earth to Sky in 2010 when a group of Bishop High students expressed an interest in exploring hands-on learning to understand calculus and physics. Since that time, the program has, quite literally, taken off. To date, Earth to Sky students have flown more than 200 balloons in 6 different states and 4 countries. Each of those balloons carried payloads containing not only cameras, but also sensors used to measure cosmic radiation, temperature and other data at the edge of space.
Information and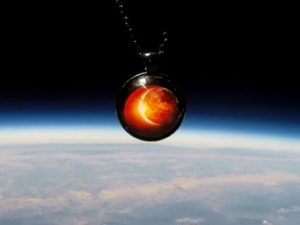 photos courtesy of Dana Crom