– By Deb Murphy
The Bishop Union High School cross country teams fielded a host of strong runners last Wednesday for the High Desert League Finals, held at Broncos' home course in the Tungsten Hills.
Rosamond lived up to their Roadrunner mascot and ended the finals with dual championships. Rosamond's boys and girls teams both scored 25 points to Bishop's 38. The smaller teams from California City and Kern Valley rounded out the field.
Bronco sophomore Duncan Reid finished first for the varsity boys team, claiming his personal best of 18 minutes, 20 seconds; his brother Carson, a junior, finished a close second at 19.04.
There's a story about a bleached-out singleton that dates back to 2004, according to former cross-country coach Jeff Perry. The jersey was worn by Jose Moreau, now a post-graduate engineering student at Cal Poly San Luis Obispo. Given the order to wash it, he went overboard and bleached the Bronco blue jersey to white.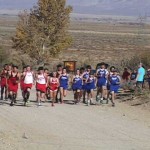 The Duncan brothers exchanged the winner's jersey at the end of the race. Carson won the jersey in the final league competition. He stripped it off after Wednesday's finals and handed it over to Duncan.
Also for the Bishop boys, Jordan Kost finished ninth, Dylan Fitt 12th and Thomas Sills, Sam Donondi and Jose Moreno took 14th through 16th, respectively.
Bishop senior Olivia Grah was the first Lady Bronco over the finish line. Grah claimed the spot a mile into the course and never gave it up and finished second overall in 24:48. Bishop's Chloe Alemedia was sixth overall in 25:48, and Kayla Inderbieten was 7th in 26:23. Also for Bishop, Angie Flores was 13th, Aidana Lanane was 14th, Anna Brown 16th and C.C. O'Dell 17th.
The Broncos now travel to Fresno's Woodward Park, Nov. 20, for the CIF Central Section finals. The top runners from each section advance to the State Cross Country finals, Nov. 29 at Woodward.
Boys Times:
1st: Duncan Reid, 18.20
2nd: Carson Reid, 19.04
9th: Jordan Kost, 21.11
12th: Dylan Fitt, 21.54
14th: Thomas Sills, 23.55
15th: Sam Donondi, 25.27
16th: Jose Moreno, 25.56
JV Times:
6th: Sean Maratinez, 25.43
9th: William Moore, 29.57
13th: Harvey Griffiths, 31.57
14th: Beth Morgan, 32.43
15th: Barbara Reischart, 32.57
16th: Cooper Schmidt, 34.11
17th: Jevan Morelock, 34.16
19th: Mohit Bhakta, 36.37