The suspect in Bishop's St. Patrick's Day bank robbery remains at large, and police don't really know if he's dead or alive.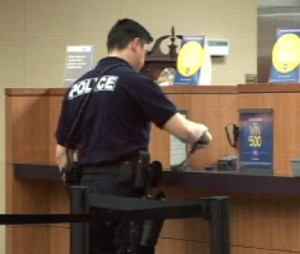 It was the evening of March 17th when a man wearing dark glasses and a hat pulled down low walked into Chase bank and demanded cash. He had a gun. Surveillance cameras captured the man's image and in early April, Bishop Police issued a warrant for the arrest of 49-year-old Steven Craig Wiswell of Benton. Officers obtained a search warrant for Wiswell's home. Bishop Police Chief Kathleen Sheehan stated simply, "We have not found him or his body. Several of his friends say he has committed suicide."
Chief Sheehan pointed to the fact that Wiswell has a commercial truckers license and could exist "under the radar" by driving or riding trucks around the U.S. Bishop Police did issue bulletins for many parts of the country. Bottom line, as Chief Sheehan puts it, "We know who he is."
In April, the Chief warned the public that Wiswell's profile could mean an officer involved shoot-out at some point. Wiswell was originally described as a suicidal missing person from Mono County. Chief Sheehan said Wiswell made statements to several people that he "wanted to rob a bank, rob a casino and go out in a blaze of glory."
Images of Wiswell on the Paiute Palace Casino surveillance tape the night of the bank robbery confirmed suspicions about him. All of his personal information became available because he used his Player's Club Card. His image also closely matched that of the robber on the bank video tape.