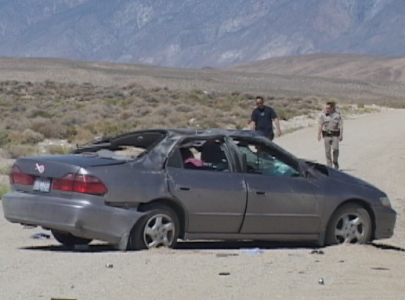 Highway Patrol officials have released the name of the woman who died in an un-witnessed car accident near Bishop. 66-year-old Bishop resident Doris Smither was the victim of the single vehicle rollover on Fish Slough Road.
Details on what happened remain sketchy. The vehicle, a silver Honda Accord, had been travelling southbound on Fish Slough Road. when the accident occurred. The badly damaged car appeared to have rolled over before coming to rest on its wheels in the middle of the dirt road. CHP Officials say the vehicle rolled five times.
So far investigators have determined that Smither left her home some time between 5:00 am and 10:00 am Monday. While the accident wasnt reported until Monday afternoon when a Fish and Game employee found the wreck, investigators found two elderly females who had driven around the accident scene between 10:15 and 10:30 Monday morning, which implies the accident occurred before then.
What caused the accident, or even how fast the vehicle was travelling at the time, remains under investigation. If you have any information on this fatal accident, call the Bishop CHP at 872-5960.