Inyo County Sheriff's Department press release
The Inyo County Sheriff's Dispatch received an emergency 911 call last night at 7:15in reference to a neighbor dispute that escalated into a stabbing.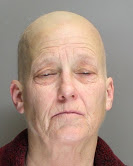 According to the reporting party, who was also determined to be the suspect, an argument over personal property resulted in a male neighbor being stabbed with a kitchen knife.
Marie Deflon, a 58 year old woman from Bishop, was arrested and booked under the following charge: assault with a deadly weapon (felony). Bail has been set at $25,000. Assisting agencies: Bishop Police Department and CHP.
The victim was initially transported to Northern Inyo Hospital; however due to the injury was flown out for further medical care.