A 38-year-old Bishop woman was arrested Saturday night on charges that included attempted homicide and assault with a deadly weapon.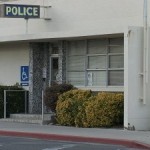 A press release from the Bishop Police Department identified the suspect as September Anne Downey, 5-feet, four-inches tall and weighing 140 pounds.
The press release reads:
On Saturday, February 28, 2015 at about 8:50 PM, Officers from the Bishop Police Department responded to the area of the 300 block of East Line Street regarding a report of someone brandishing a firearm.
Upon arrival, Officers located the Victim, Danielle Jordan.  Jordan had obvious injuries and reported to the Officers that she had been attacked by September Downey.  Jordan claimed that Downey had assaulted her with an unknown type of firearm and that she had been rendered unconscious as a result of the assault.  The attack had been witnessed by others in the area.
Further investigation revealed that the weapon was a replica firearm/BB Gun and that Victim Jordan had been shot and beaten with the BB gun during the assault.
Suspect Downey was located a short time later at her residence and taken into custody without incident.  Victim Jordan was treated at Northern Inyo Hospital for her injuries.
Downey was subsequently booked at Inyo County Jail on various charges, including Attempted Homicide, Assault with a Deadly Weapon, Battery Causing Great Bodily Injury, and Violation of Probation.  Downey' Bail is currently set at $500,000.