Questions of fairness came up during discussions of water and sewer rates for the City of Bishop this week.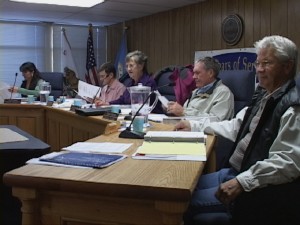 At the Bishop City Council meeting Monday night, the council approved new water and sewer rates for city residents and businesses through 2013-2014. Residential users will see moderate increases in coming years, but some businesses will see large increases in water and sewer rates.
According to the water and sewer rate study, a single family home uses about 449 gallons of water. After the water is pumped out of the ground and piped to a home, a consultant and the water and sewer commission estimated that homes should pay the same $32 a month rate they pay now through 2011-2012, but with maintenance and estimated increases in costs, such as staff costs, the rate is set to increase to $36 in 2013-2014.
Combined with sewer rates, which are expected to rise at a higher rate than water, people paying $52 a month for both water and sewer are set to pay $63.30 cents a month in 2013-2014.
One apartment owner, already paying up to $1600 a month for water and sewer, was concerned that the higher rates would lead to higher rents in an already tough market. A local resident who owns a Laundromat in Bishop is charged per washing machine whether the machine is used or not.
Hotels and Gas Stations are set to see the largest rate increases. Sewer for a gas station is set to rise from $8 now to close to $60 in 2012-2013. Hotel sewer rates are set to rise from $5 a room to over $16 a room in 2012.
David Bhakta, who owns the Creekside Inn and serves on the Water and Sewer Commission, explained that he believed the new numbers were based on 100% room occupancy when Hotels in Bishop run 50-60% occupancy each year. His hotel uses low flow toilets and special shower heads to reduce water use because his customers request such things, but other hotels may use more water.
Water and sewer commissioners, members of the public, and staff who spoke at the meeting brought up the over all point of fairness in the rates. While the Water and Sewer Commission worked to keep the rates fair for residents and businesses, it was clear that a lack of meters leads to difficulty in knowing how much a building uses which in turn makes it difficult to know how much to charge.
Clarence Martin, who serves on the Water and Sewer Commission, summed up the issue saying, the only way to get parity is to put in water meters. He says that at a commission level he will continue to push for water meters.
Noting the inequity without meters, the council eventually approved the rate increases 5-0.