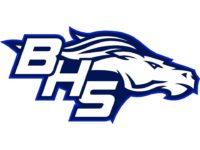 In Friday's league match, the host Bishop Union Broncos football squad scored a big 73-6 victory over the California City Ravens.
In their next game, the Broncos clash with the Desert Scorpions (Edwards AFB, CA) in a High Desert match, on Friday, October 8. Bishop Union will attempt to move on its 5-0 season record. The Scorpions enter the match with a 0-3 record after their 52-6 league loss to Boron (Boron, CA).
The Ravens (0-3) will now prepare for their match against Kern Valley (Lake Isabella, CA). The Broncs enter the High Desert match with a 2-0 record. In their last match, Kern Valley routed Rosamond (Rosamond, CA), 33-6, in a league match.