Trouble with an electrical cord led to a fire in a home on the corner of McLaren and Brookside in West Bishop Thursday. No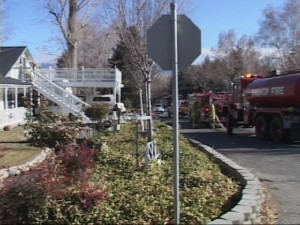 one was hurt and damage remained minimal.
Bishop fire responded immediately to a call of a structure fire. When they arrived the owner of the house, a Mr. Johnson, and someone nearby, had dragged burning material out of the garage. Bishop firefighters worked quickly to make sure the fire was all out.
They brought in fans and negative blowers to keep smoke out of an upstairs apartment and the rest of the house. Fire Chief Ray Seguine said he determined that an electrical extension cord plugged into the wall to the right of the hot water heater went to a refrigerator freezer. Chief Seguine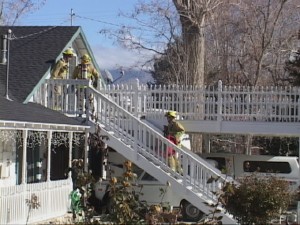 said there was a problem with the cord and it caught combustibles in the area on fire. This was on the north side of the garage.
Chief Seguine said some smoke did get into the upstairs apartment. He said his men brought in blowers to keep smoke out or get it out to avoid smoke damage. The Chief said Mr. Johnson was at home and saw the fire. He pulled the burning material out of the garage. Seguine said a Dean's Plumbing employee across the street ran over to help.
Volunteers were able to keep the fire out of the rest of the house.