Wednesday is Veterans Day, when the nation takes time to remember those that have served in the military both living and past. After World War I came to a close, November 11th was celebrated as Armistice Day. This later morphed into a celebration of all vets from all wars.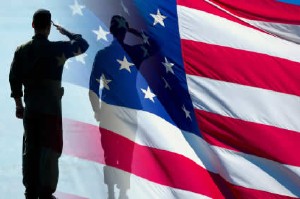 Here in the Eastern Sierra, the Bishop Post of the Veterans of Foreign Wars and the Ladies Auxiliary are scheduled to hold a day of events on Wednesday.
Starting at 6:30 in morning, the VFW and the Auxiliary are set to place flags on the streets of Bishop to mark the day. At 7:30, flags will be placed at both Bishop Cemeteries.
At 11:00 am the VFW is set to hold a Veterans day memorial service at the Pioneer Cemetery on West Line Street.
From noon to 3:00 refreshments will be served at the VFW Post on Short Street. All members of the community and veterans are invited to attend. VFW members would like those who attend to meet the Bishop Posts oldest and only three war veterans. Harold Leatheman served in WWII, Korea, and Vietnam. The oldest female comrade, Pauline Hawkins, will be there, as will the last survivor of Torpedo Squad 6 from the coral sea, Bill Swanson.
For more information on these veterans day events in Bishop, you can call 1-760-873-5770.
Also, in honor of Veterans Day, Yosemite National Park is set to waive the $20 entrance fee.
In a news release, Secretary of Interior Ken Salazar stated The sacrifices and achievements of the brave men and women of our armed forces can never be understated. We invite all of our visitors to enjoy this fee free day and take time out on this national holiday to remember our service men and women who are currently serving overseas in harms way.
To honor Veterans on this day, everyone who drives over the pass to enter the park can do so with out charge on Wednesday, whether they are veterans or not.