To boost the number of buses that serve the Bishop Paiute Reservation, the Tribe donated a brand new bus to the Eastern Sierra Transit Authority.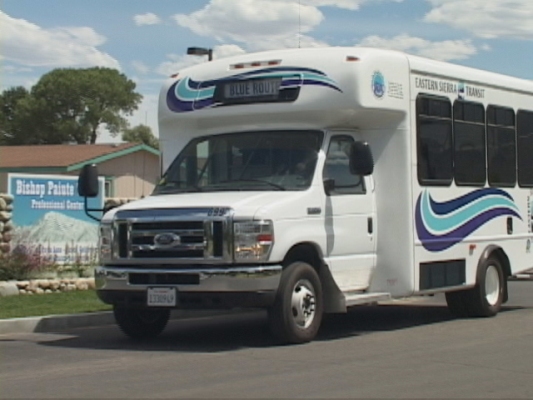 On Tuesday, Tribal Chairman William Vega turned over the bus keys to ESTA director John Helm in front of the Tribal Offices. We took a quick ride through the reservation in the new bus, which we can say was air conditioned and a smooth ride. The new bus also has a wheelchair lift for those who can use it.
Tribal Grant Administrator Bruce Klein explained that the Federal Transit Administration recently started a Tribal Transit Program. The Tribe applied for and received a $55,000 grant for the bus. The ESTA board chipped in the rest of the $65,000 total new vehicle cost.
The plan is to use this new bus to serve the Reservation by way of the Blue Route and Dial-a-Ride. Tribal staff is also looking into grants to fix up the bus stops on the Reservation, possibly building plexiglas enclosures to shelter riders in cold or windy weather.