Rumors persist in the Bishop area that the Indian Tribe has made a deal with Wal-Mart to locate on its lands just off Highway 395 north of Bishop. Tribal officials say they are working on a number of economic development opportunities.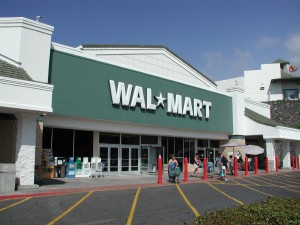 When asked about Wal-Mart and a Reservation location, Tribal Chairman Bill Vega said, "I can't comment on that right now." Tribal Administrator Glenn Hall also said he couldn't comment at this time. Hall did go further and said that on the tribe's behalf, officials are "seeking economic opportunities which are not at the point for public discussion." Hall said they are looking at "a number of things."
Sources from within the Bishop community have said that the tribe has contacted local contractors about re-location of some residents in the area south of Highway 395 that would serve as location for a Wal-Mart.
Privately, some Bishop officials said the impact of a Wal-Mart could be far reaching. In earlier years, Wal-Mart had talked to local officials but indicated that the population volume is not here to support both a Kmart and a Wal-Mart. Some have speculated that the arrival of Wal-Mart would signal the departure of Kmart.
The big guys aside, a Wal-Mart in the Eastern Sierra would have a perceived impact on many small businesses not poised to compete with Wal-Mart prices. Wal-Mart located right off Highway 395 would present more intense competition.
If a deal were struck between Wal-Mart and the Bishop Tribe, Tribal Administrator Hall said that they would immediately issue a news release to let the community know what is happening. Hall indicated that right now the timing is premature to talk about deals with anyone.