Speculation about Walmart coming to town continues. Employees at Carson City Walmart stores told us they have heard a store is coming to Bishop, but so far the corporation has not confirmed it. Meanwhile, the Bishop Paiute Development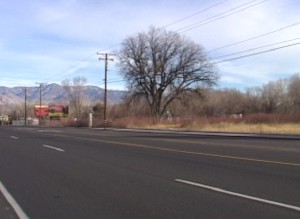 Corporation and Tribal Chairman issued a press release to confirm earlier reports of the exploration of the "potential for the development of a Retail Corridor Project along the Tribe's Highway 395 property."
The location of the earlier Walmart rumors lies along 395 on Reservation land north and west of Bishop. Caltrans officials had earlier confirmed that they talked with Tribal officials about access issues that might develop in relation to a development along the highway.
In their press release, Tribal officials do not name any stores or companies they may consider. The press release does say, "It is our understanding that the Paiute Development Corporation has received expressions of interest in this project from several potential anchor tenants, retail developers, and resort developers. However, at this time no agreements have been reached with any of these interested parties."
The Tribal Chairman's press release says that the Retail Corridor Project will help the tribe achieve its goal of "diversifying its economic support base through the development of a sustainable tax base." The project, he said, would supply jobs and economic opportunities. The release says the feasibility of the retail corridor is still being determined. With a lot of work yet to be done.
Tribal officials say that they will keep their membership apprised of the developments. The release does not name companies with which the tribe might make a deal. The release also says nothing about informing the larger community about what might take place on the Reservation.