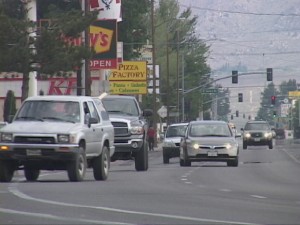 The Bishop City Council has approved a resolution that declares the City's intent to set up the Bishop Tourism Improvement District. A public meeting and hearing will follow. Only lodging businesses would be assessed, and the money would be used to pay for marketing and sales promotion efforts for the assessed businesses. The Bishop Chamber of Commerce and Visitors Bureau devoted time and effort to this plan.
According to the City Council agenda, a petition was received, reviewed by the City Clerk, and found to have the necessary signatures for the City to move ahead with the resolution of intent. The City Council voted unanimously to approve the resolution.
That document says that lodging businesses that will pay more than 50% of the assessment proposed have signed and submitted petitions in support of the formation of the BTID. The boundaries of the district are the same as the City of Bishop.
The resolution says that the annual assessment is 2% of gross on short-term stays of less than 31 days. The assessment will not apply to government employees staying on government business. The document says the plan for the assessments is to provide direct benefits by increasing room night stays through sales and marketing programs.
The meeting to hear testimony on this plan, according to the resolution, is set for October 27th at 7pm in the Council Chambers. The public hearing to establish the BTID and the levy of assessments is set for November 10th at 7pm or as soon thereafter as may be heard in the Council Chambers.
If there are written protests by the owners of the lodging businesses that would pay more than 50% of the estimated total assessment of the entire BTID, there would be no more proceedings for one year.
A nearby neighbor, the Town of Mammoth Lakes, established a Tourism Business Improvement District last year. There was some controversy over this move which includes assessments of 1% of gross on lodging, 1.5% on restaurant and retail and 2% on lift tickets and ski school sales. There were initial objections to assessing restaurant and retail stores. Enough support was finally garnered to move ahead.
Again, the Bishop Tourism Improvement District would assess lodging only.