Last week, employees of the Lyndon Larouche group staged political events in Mammoth Lakes and Bishop. They displayed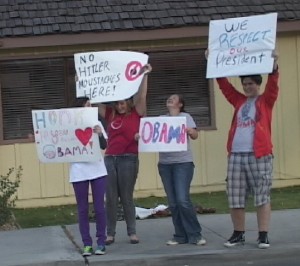 posters of the President with a Hitler moustache and asked for impeachment signatures.
Their style offended some and appealed to others. In Mammoth, some called the police to try to get the impeachment pair off the street. In Bishop, they collected signatures at the Post Office and on the opposite corner.
At that location last Friday, a group of Bishop students staged their own political event. Their signs supported the President and criticized the Larouche group.
For one thing, the local students did not like the Hitler moustache super-imposed on our president. Local student, Kevin Sprague, said he felt the Larouche people had no facts to back up their positions.
The First Amendment at work on both sides of this political issue.