Problems with kids. Nationwide, schools report issues with drugs, alcohol and weapons. In Inyo-Mono, issues have come up over problems with kids and the need for law enforcement on campus, and now in Bishop a new, aggressive move to crack down on drugs and alcohol at school.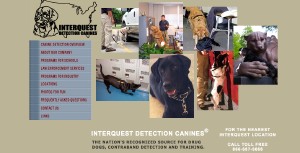 Bishop School Superintendent Barry Simpson sent out letters to parents and teachers to say that the school district recently started a program with Interquest Detection Canines, Inc. to "provide detection canines to conduct random, unannounced inspections of all campus locations in the district."
The Bishop Superintendent said these dogs are trained to detect the presence of illicit drugs, alcohol, commonly abused medications and gunpowder-based items. The canines will randomly inspect campus buildings, parking lots and grounds for prohibited items. Simpson said if these things are detected and found, the district will initiate the appropriate disciplinary action.
The canines are considered non-aggressive breeds like Golden and Labrador Retrievers. The company that provides the dogs, Interquest, provides service to over 1200 public school districts across the nation.
The school district has invited parents and the public to a presentation by Interquest Detection Canines on Tuesday, November 17th, at 6pm in the Bishop High School Library.