A traffic accident involving a Bishop school bus made for some anxious moments for
parents Wednesday.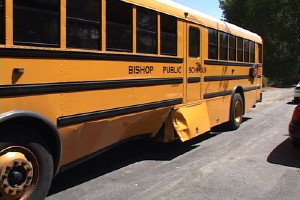 No students were aboard the Bishop Elementary School bus when it was broadsided
by another vehicle just after 1:30 Wednesday afternoon.
The traffic collision occured at the intersection of Barlow Lane and West Line
Street. According to unofficial reports, the school bus was traveling southbound
on Barlow Lane and turning east onto West Line St. Apparently the other vehicle,
travelling westbound on West Line St., ran into the bus as it was turning.
Many California Highway Patrol units converged on the scene, and scanner traffic apparently alerted many parents to the accident involving a school bus.
Bishop Elementary School officials assured the parents that called that the
driver had already dropped off all students who were aboard the bus. School
officials also contacted local radio stations to get that word out.
We received information that the bus driver was safe and did not require medical treatment, but was to undergo a blood test, as per standard procedure.
The other vehicle's front end was heavily damaged and the air bag did deploy. The driver was taken to Northern Inyo Hospital. No word on her injuries.