During the first half of a blowout win against Rosamond, one of the top players for the Bishop Union High School football team came off the field after another Bronco touchdown, and said, "This is a boring game."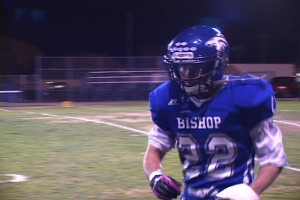 He likely won't be saying that Friday night when the Broncos play at Salesian.
The Broncos put on a dominating offensive performance in a 49-7 win over visiting Desert Christian (Lancaster) in the first round of the CIF-SS Northeast Division playoffs last Friday at John Schwab Field, but Bishop will face another high-quality offense in this Friday's second round, traveling to Los Angeles to face the Salesian Mustangs.
Salesian is seeded fourth in the Northeast Division, is 10-1 overall and went 4-0 in winning the Santa Fe League. The Mustangs have outscored their last five opponents 287-17, including last week's 74-7 first-round win over visiting Capistrano Valley Christian.
But Salesian will have to stop head coach Bill Egan's Broncos (9-2, 5-0)  and its many offensive standouts, including Ryan Devore, who had 277 yards of offense on just six touches in the win over Desert Christian.
Devore scored four touchdowns, two rushing and two receiving, with 178 yards rushing on four carries and two receptions for 99 yards.
Quarterback Kyle Batchelder was 5-5 for 140 yards and two TDs, and Carl Olsen completed his only pass for 75 yards to Curran Simpson. Cam White, Tony Russell, Dustin Waasdorp, Roland McClean and Noah Stevens also contributed to the Broncos' 506 yards of total offense.
Roman Amison led the defense with 14 tackles and a caused fumble, with Drake Trimble, Cory Thomsen, David Tanksley, Nicco Roccoforte and Waasdorp also leading the Bronco "D".
And that Bishop defense will be tested by Salesian, a team loaded with talent at the skill positions.
The winner of Bishop-Salesian will move to the semifinals and play the winner of No. 1-seed Mission Prep (San Luis Obispo) at Flintridge Prep (La Canada). Bishop has won the coin toss for home-field with Mission Prep, but lost the coin flip with Flintridge Prep.
Second-round games in the CIF-SS Ford Championships Presented by Farmers, Northeast Division lower bracket are No. 2-seed Boron at St. Monica, and No. 2-seed and defending champion Rio Hondo Prep (Arcadia) at Desert (Edwards Air Force Base).