– Press release
The Rotary Club of Bishop's Ducky Derby ended Sunday, Sept 28th at the Creek Side Inn. Rotarians Patricia Ellis and Jeff and Kay O'Brien got the ducks ready to be released for the big race.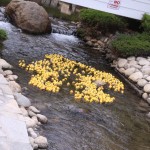 Patricia got into the creek water, captured the winning ducks and then retrieved all the ducks which were cut off from going down the creek to the Bishop Park with a barricade created by Jeff O'Brien.  Maggie Kingsbury and Pat Brown were there to document the numbers of the winning ducks.
Ed and Pat Nahin were there to photograph the event.  The person who had the number, 625, for the winning duck was Darci Jahn.  Her sister, Rotarian, Nicole Perry- Morley, had purchased the ticket for Darci and of course they were both thrilled that Darci won the first prize of $2000.00!
There was a $500.00 prize for the 2nd place duck and six other $100.00 prices for the 3rd thru 8th place ducks.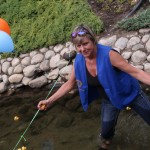 The Rotary Club of Bishop is already planning for next year's ducky derby.  One Hundred percent of all proceeds from this event will go for the Rotary Club of Bishop's many charitable works including scholarships to local high school graduates and many other programs provided to our local schools plus money will be donated to the international Polio Plus program which provides polio vaccines throughout the world.
The complete list of winners:
Darci Jahn – Duck No 625                        $2000.00
Alama Forbes – Duck No 603                     $500.00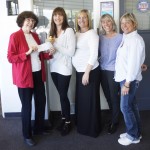 Dan Arzola – Duck No 646                          $100.00
Victoria Lane-Alexander – Duck No 459    $100.00
Mary Gable – Duck No 76                         $100.00
Tim Holveck – Duck No 232                       $100.00
Kayla Atley-Work – Duck No 331              $100.00
Grace Tanksley – Duck No 650                 $100.00
Pictures:  Rotary Club of Bishop President presents the $2000.00 check to Darci Jahn, along with Rotarians Nicole Perry-Morley, Sue Lyndes and Patricia Ellis.
Kay and Jeff O'Brien dropped the ducks into the creek.  Patricia Ellis collecting the ducks after she retrieved the winning ducks.
Photos by Ed and Pat Nahin