The Rotary Club of Bishop is proud to have Ken Lyndes as our newest member.
Rotary 5190 District Governor, Gail Ellingwood led the induction at the Tuesday July 21st meeting. Ken is no stranger to community service and has participated in many of the club's programs for several years.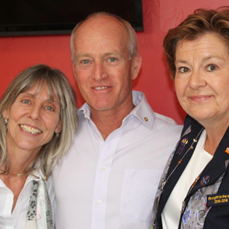 He has helped with the 5th Grade Financial Literacy Program, read to 3rd Graders in Ms. Hammie's Literacy Circles, rounded up ducks in the rubber ducky derby, led fishing expeditions as part of our Sierra Safari and prepared and cooked food at the Soup Kitchen.
Ken was born in New Hampshire, raised in Covina, CA and enlisted in the US Navy in 1984. After serving his country for 20 years, he retired and trained as a Respiratory Therapist. When the opportunity to work in Bishop came up, they didn't think twice about moving to our small community eight years ago. Our beautiful Eastern Sierra surroundings is the perfect place for Ken to pursue his hobbies of fishing, hiking and fly tying.
Ken was attracted to Rotary because of the community service and the fellowship with club members and other Rotarians. He brings commitment, enthusiasm and initiative to the club as he joins his wife Sue, working on our current community and international projects. They are a dynamic team!
Rotary International has 1.2 million business, professional and community leaders in more than 200 countries and geographical areas providing humanitarian service and building goodwill and peace in the world.
The Rotary Club of Bishop meets every Tuesday at noon at Astorga's Restaurant.  Visitors are always welcome.  Lunch is $10.00.
Submitted by Pat Nahin
Photo by Ed Nahin