By Deb Murphy
The City of Bishop is taking a second, serious look at an electric car recharging station in the downtown corridor.
Public Works Director Dave Grah highlighted potential sites at Monday's City Council meeting and got the green light to bring in a consultant to work on location, size and design.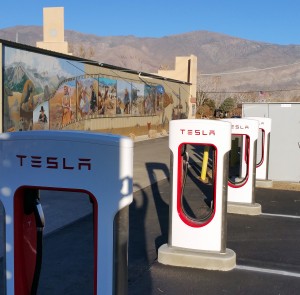 With any luck, the consultant may also be able to hook the city up with a company who would actually do the project. That was the wish of both Grah and Councilmember Joe Pecsi.
Grah honed in on four of the city's parking lots.
The City Hall lot that runs from Fowler to Warren streets behind City Hall and the police station

The lot used by the city's Public Works vehicles, between South Fowler and South Warren

The "Contel" lot, off Main Street north of Black Sheep and

The Whitney Alley lot, at the corner of Willow Street
In an e-mail, Grah stated three to five spaces would be a reasonable start, "but I think a consultant would probably be much better forecasting demand."
The City rejected the idea of a Tesla station roughly seven years ago. Since then, recharging stations have popped up in Lone Pine and the town of Mammoth Lakes accommodating a growing number of all-electric or hybrid autos.