Press release
The Bishop Chamber of Commerce is planning several fun and festive holiday events for our community.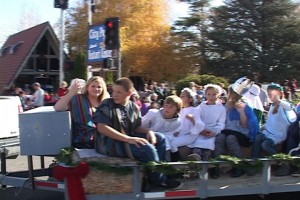 Everyone is encouraged to participate and keep safety in mind.
Christmas Parade, Tree Lighting and Street of Lights will all be held on Saturday evening, December 3rd
.
The parade will run south to north, beginning at 4:30 pm at High Country Lumber and ending at the BishopCity Park.
The Rotary Club's Santa Mile Run will begin at 4:15 at the Bishop Chamber.
Please note that Main Street/Highway 395 will be closed to traffic in all directions from 4:00 until approximately 6:00 pm. A detour
will be available – Mandich Street on south end and Sierra Street on north end of the parade route.
Also note starting at noon on Saturday, and continuing until the end of the parade closure, there will be no parking on South Main Street between Line Street and South Street.
It is very important that everyone comply with the detour for the safety and continued success of this important holiday tradition. It is also important to note that Main Street/Highway 395 will re-open to vehicle traffic after the parade.
Shoppers for the Street of Lights must stay on the sidewalks. If you are walking to town, please use caution on the side streets. A big crowd is expected, so plan to arrive early to enjoy the parade and all the festivities. We thank everyone in advance for your cooperation!
Following the parade, there will be a brief tree lighting ceremony at the front of Bishop City Park. After the tree lighting, stroll downtown for the Street of Lights party. Have your map stamped at six of the participating merchants to qualify for the huge raffle at Mountain Rambler parking lot at 9pm.
Santa and Mrs. Claus will be available for visits at the corner of Main and Line, next to Country Glass from 6:00 until 8:30 pm on Saturday night.
The second annual "Railroad Express" at Laws Museum on Saturday, December 10th will feature train rides, live ntertainment, kid's crafts and activities, refreshments, plus visits with Santa and Mrs. Claus.
It's going to be a magical time for children and families so don't miss it! Tickets are just $15 for adults and $7 for kids 12 & under. Get tickets at the Bishop Chamber by December 1st for $1 dollar discount on each ticket.