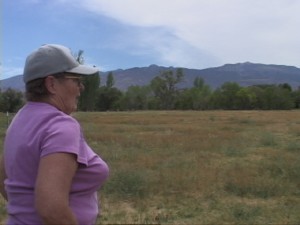 The Inyo-LA Standing Committee, minus any decision-makers from LA, met in Independence Friday. They opened the meeting at the boardroom and then promptly took off for a field trip near Black Rock.
Later in the day, tribal members strongly protested the plan to turn on a well that had been off for twelve years due to risk of environmental damage. Inyo and LA want to turn it on for a re-greening project in Big Pine. The officials ignored the public protests. Inyo Supervisors had already decided how they would vote when they talked about this issue at their board meeting last Tuesday. Citizens questioned the legality of deliberating and deciding on a Standing Committee item before the actual meeting. More on this later.
Bishop Rancher Daris Moxley stood up in public comment to say the Department of Water and Power had cut her ranch water. She pointed to the Long Term Water Agreement which says ranch leases will get water and management as they had in the 1981-82 runoff year. Which holds sway, Moxley wanted to know, her DWP lease or the Water Agreement? At the Standing Committee meeting, Moxley put the question to the officials. They said absolutely nothing in response.
Moxley said she had earlier had to sell off 30 of her 40 Red Angus cows because of a lack of water and lost pasture when DWP cut her water to 5 acre feet per season.
Moxley said she can't get answers from either DWP or Inyo officials. The day after the Standing Committee meeting, Moxley said she received a letter from DWP saying she would get no more water this season. Moxley said she usually gets water until the end of September.