Bishop ranch lessees of DWP have complained this summer that they did not get enough water and could never figure out why. Finally, one of them, Daris Moxley, went before the Inyo Supervisors for help. The supervisors, reluctant to step in between DWP and its lessees, did, at least, agree to "continue the dialogue."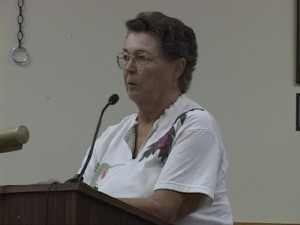 Ms. Moxley told the Board that all she wanted was knowledge of what was happening to her and figures of water use that she could understand. Supervisor Susan Cash asked DWP manager Gene Coufal if DWP could get someone to explain unclear water figures to Mrs. Moxley, who said that the amount of water she did receive caused her to dry up two big pastures and sell off more than half of her 30 cattle.
Inyo Water Director Bob Harrington explained to the Board that the Long Term Water Agreement does require DWP to keep ranch lands irrigated as they were in the early 80s, but he said Inyo County really has no authority over DWP and its lessees. Harrington also revealed that Inyo and DWP have no way to monitor what's called Type E or ranchland vegetation. So, no real way to make sure DWP keeps up with requirements of the Water Agreement.
Supervisor Bev Brown, who represents the area of Mrs. Moxley's Bishop lease, said she couldn't tell DWP what to do with its lessees. She did say she had tried to intercede on Mrs. Moxley's behalf. Moxley continued to say that all she wanted was to know how many acre feet of water she has been using.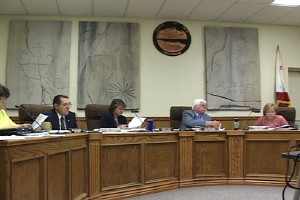 Supervisor Brown then explained, in what seemed to members of the audience like a condescending way, how lifetime rancher, Mrs. Moxley, should water her pastures to make up for a lack of water.
DWP's Gene Coufal explained that this was the first year DWP had actually measured water to the Brockman Lane area lessees. He said DWP is "collecting irrigation records up and down the valley." He promised to sit down and go through the figures regarding this year's irrigation and what happened.
Board Chair Linda Arcularius promised "continuing dialogue. We're all in this together," she said.