The elusive leak – a drama that unfolded on Bishop's Main St. from Tuesday night into Wednesday with critical help from Bishop Public Works and Mammoth Community Water District.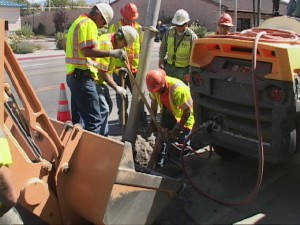 Bishop Public Works Director Dave Grah said that Tuesday night the CHP called Caltrans to report a bulge in Main St. at the intersection with Pine St. Caltrans crews checked it out but determined the water leak was not in their jurisdiction.
Enter the City of Bishop Public Works. Director Grah said that between 9pm and midnight crews tried to track down the source of the water leak. Grah called the leak "very elusive". With 18 inch thick pavement, it took two hours just to drill one hole.
In the daylight hours, Mammoth Community Water District agreed to bring down their leak detection equipment. Mammoth has worked on major water line replacement projects in their streets. Grah said they located the leak fifty feet to the south of where water was coming out onto the street.
Grah speculated that the leak might have been coming from an area where a service line was connected to the eight inch water main.