At the most recent Bishop City Council study session, Police Chief Kathleen Sheehan told the council that the Department is working toward a crime free city. One new aspect of the plan to crack down on crime in Bishop is to create a new system to roll small time offenders up the chain to possibly arrest bigger fish.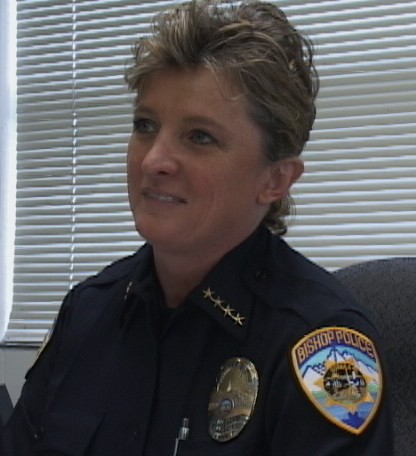 She says that she has asked Bishop Police officers to emphasize narcotic enforcement. Chief Sheehan told the council that between March 1 and April 27th, officers had made twelve narcotic related arrests. Of the 12 arrests, only one was for methamphetamine she reports, the other arrests were all for marijuana.
Since the beginning of the year, Chief Sheehan says that Bishop Police have provided assistance to Inyo and Mono Narcotic enforcement teams eleven times and helped serve three search warrants.
The Police are also working with the Inyo District Attorneys Office create field contracts, that would allow an officer to make a deal with an arrestee on the spot to reduce the charges against that person if the arrested person can help make arrest a more significant criminal offender.
The way this would work, according to the chief, is that rather than track down a DA to work out a deal, a person who gets arrested could sign a contract with the Police to help with what is essentially, undercover work, in exchange for a reduced sentence from the District Attorneys office.
Sheehan says that the program would be modeled after a similar program in Mono County. The chief told the council that she hoped to have a progress report on this plan within the next few weeks.