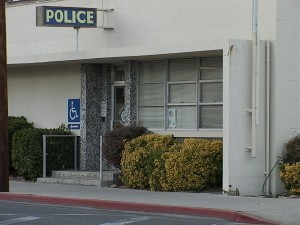 The Bishop Police Department in conjunction with the Bishop Police Officers Association would like to announce that we will be holding a bike rodeo for our local youth and adults on Saturday November 16th from 10am to 2pm. We are asking local businesses for donations to help purchase 90 helmets for this program and raise $1100.00. Our goal is to register bikes and provide helmets to anyone who may need a one.
We want to make this a fun and enjoyable experience for our community while promoting bicycle safety. During this event we will be talking to anyone who has questions regarding bike safety, current laws as well as showing the proper way to wear helmets.
The California Highway Patrol will also be involved in this event and will be on hand demonstrating the proper installation of child safety seats inside vehicles. The CHP will also answer any questions about what children; age, weight and height are required to be retrained in car seats.
Our hope is to make the community, especially our children more aware and safe when riding their bikes, scooter and so on in the Bishop Area.
If you can donate and help our cause for awareness please contact Katie Coffman at the Bishop Police Department at 760-873-5866.
Thank you,
Katie Coffman, Public Information Officer
Bishop Police Department