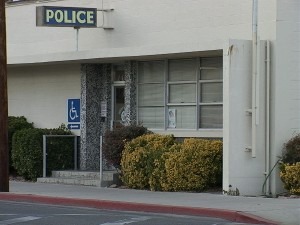 UPDATE: 11am Tuesday – At Monday night's Bishop City Council meeting, Police Chief Chris Carter spoke to the Council about the embezzlement investigation.  He called it  "quite the daunting task for our small department."  He said investigations like this are few and far between.  The Chief said he hopes to have more information on this case by the end of the week.  He thanked the District Attorney's Office and County for the team effort in the investigation.
Supervisor Jeff Griffiths also spoke at the Council meeting.  He thanked Chief Carter and the DA for working "on the embezzlement to locate suspects.  We concerned," said Griffiths, "about internal controls.  We want to make sure this does not happen again."
***
Bishop Police Chief Chris Carter has confirmed that over the weekend the Police Department, in conjunction with the District Attorney's Office, served a search warrant at a Bishop area home in a continuation of their investigation of possible embezzlement from the Inyo County Welfare Office in Bishop.
Officers served the warrant at the home of Kenneth and Dawndee Rossy in the Bishop area. Chief Carter said as a result, officers found a small amount of controlled substance which led to the arrest of Ken Rossy who was transported to the Inyo County Jail.
Asked if police and attorneys recovered any evidence related to the welfare money embezzlement, Chief Carter said the arrest of Ken Rossy was unrelated. He also said, "Our investigation is progressing and Dawndee Rossy is a person of interest." She is an employee of the Inyo Welfare or Social Services Office in Bishop.
Last week, Health and Human Services Director Jean Turner had issued a press release that said employees in Social Services had detected "irregularities" and that a "substantial amount of money was taken." Turner said the irregularities pointed to a potential theft of public funds in Social Services. She reported this to Inyo law enforcement and to the State.
Director Turner said because this case is under investigation she could not reveal any other details. She offered assurances that steps were taken to stop what she called "this emerging scheme to defraud the public."
Both Turner and Police Chief Carter said they could not comment on the exact amount of money involved, although Turner did say the amount is "substantial."