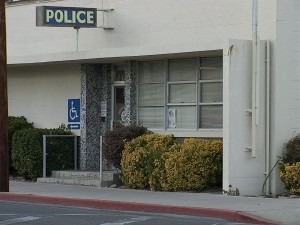 A flurry of activity for Bishop Police Monday night, and a question for police at last night's City Council meeting.
First the police action.  Officers told Sierra Wave that police were called about a possibly suicidal female in the Glenwood Trailer Park.  Officers responded and the situation turned out okay.
Then, officers dealt with someone intoxicated in public.  They handled that.  Police were also called to Vons for a fight.  That was broken up.
Police also counseled two men who reportedly got into a fight at the AM-PM mini mart.  Neither wanted to press charges.
There was also scanner talk Monday night about a verbal fight among family members at a home on the reservation.  Police were called on that and there was talk of juveniles tampering with mail boxes.
As officers said, there were no major cases but a lot of activity.
Meanwhile, at the Bishop City Council meeting, a citizen, Douglas Cooper, stood up during public comment to say he was concerned about drugs and gang activity in Bishop.  He said he had seen tagging on cars that looked gang-related.
Police Lieutenant Fred Gomez was attending the meeting and responded.  Lt. Gomez said that there are no known gangs in Bishop.  He said graffiti does happen but has not been related to actual gangs.  Gomez said that there is one officer certified as a gang expert and that he keeps track of activity in the city.  Gomez added that several of the Bishop Police Officers work drugs and that there is a task force in town – INET.
Lt. Gomez added that the police do need the public's help.  He encouraged the public to come to the department with any information that might help.