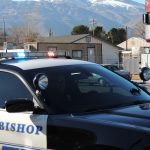 SUPPORT OUR LOCAL POLICE!
Sierra Wave could not pass up this offer to start posting the daily logs on a weekly basis from our Bishop Police Department on calls that they respond to every day in the community. It shows the public what our local police are dealing with day-to-day and, who knows, maybe what your friends and neighbors are up to as well!
Let us know how you feel about our posting this information and whether you feel that it is valuable information (or entertainment–my wife loves reading this thing) to have available to you. Thanks!
Go BPD!
[pdf-embedder url="http://sierrawave.net/wp-content/uploads/2020/05/Media-Logs-0501-through-0507.pdf" title="Media Logs 0501 through 0507″]