On the police scene, Bishop Police Chief Chris Carter reconfirms his department's position on graffiti and reports a positive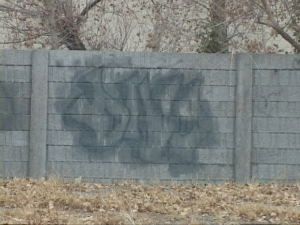 meeting with Bishop school officials.
A Bishop resident had complained over the past few years about repeated graffiti on the wall south of Vons and the lack of response by anyone to get rid of it. This resident did report the graffiti to Bishop Police. He said the response was less than enthusiastic. The citizen finally wrote to Kmart and a couple of weeks later someone painted over the Swastikas.
We talked to Bishop Police Chief Chris Carter. He confirmed that his department does not tolerate graffiti. Chief Carter said that they have worked with the Inyo Probation Department to supply the workforce if property owners come up with the paint. He said Bishop Public Works will also contact property owners about cleaning up graffiti.
The Chief did not know about the specific case we addressed for the citizen, but he did say if citizens see graffiti to contact Bishop Police. Chief Carter said there is not much graffiti here and that if it is tolerated, there could be more.
On another note, Chief Carter said that his department and Bishop school officials got together this week to "refresh their relationship." Carter said the last couple of years, the school has handled its own issues with improved discipline policies and education of students and parents.
Chief Carter praised school officials for the improvements and said that he wants his department to stay in touch with schools to make sure law enforcement is in the loop and available. "I wanted to reassure them," said Chief Carter, "that we're here to help." He said that if there are issues, officers will head to the campus.