By Deb Murphy
Bishop Police Department Chief Chris Carter made it official at Monday's City Council meeting: he's going to retire at the end of September.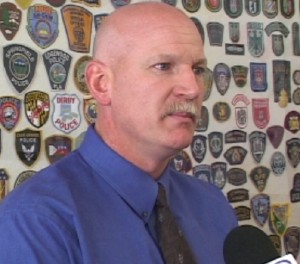 "It's something I've been contemplating for a while," Carter said in a phone interview. The timing of the announcement, two and a half months before his official exit, was based on convenience, to give the City enough lead time to develop a succession plan. He and his wife plan on staying in Bishop where Carter has served the BPD for 12 years. "After 32 years (in law enforcement), I'm ready to devote time to just living," he said.
City Councilmember and former BPD chief Joe Pecsi hired Clark, bringing him in as a police officer in 2003. "I envisioned him as a first and second line supervisor," Pecsi said. Carter moved up the ranks to sergeant, lieutenant then chief in 2010. "He had 18 years in Barstow, had his education. He fit all the criteria. He's done a fine job as chief. The department looks and acts professional, he's seen to their equipment needs and training."
"I'm going to miss the people," Carter said. "They bust their butts…. I was fortunate to have good people. They provide a great level of service. It's been a seamless ride."
In terms of accomplishments during his tenure as chief, Carter said the department was in good standing when he came in; his accomplishment was simply maintaining the same level of professionalism.