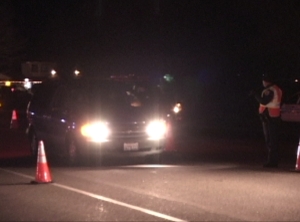 Saturday night south of Bishop, police and CHP officers worked a DUI checkpoint. 210 vehicles passed through over a three hour period.
Checkpoints give law enforcement a tool to take impaired drivers off the road and remind others that driving under the influence is illegal. Officers also checked for proper drivers licenses.
Bishop Police Sergeant Fred Gomez explained that Officers screened five drivers who had drunk a beer or two but were able to drive safely. Officers issued one citation to a juvenile driving outside restrictions. Sixteen people did not have a drivers license on them but they were valid drivers.
The checkpoint went well although traffic was low, Gomez said, possibly because of the super cold temperatures.
Bishop Police did bring out their new trailer that was used for processing those stopped at the checkpoint and will be used in a number of ways.