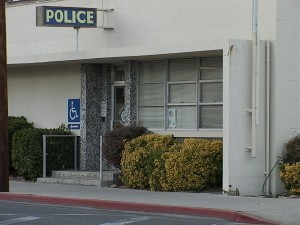 Bishop Police to Re-Examine 1996 Missing Persons Case
(Press Release)
On February 3, 1996, Jennie M. Wyckoff, age 90, was discovered missing from High Sierra Manor, which was located at 371 S. Warren St. Workers at the Facility immediately notified the Bishop Police Department and an expansive search was immediately conducted. Multiple resources were activated, including K-9 dogs, Inyo County Search and Rescue, members of the Bishop Volunteer Fire Department and Responders from adjoining agencies.
Workers reported that Jennie had last been seen in her room at about 8:00 PM on the evening prior and was discovered missing when they went to check on her the next morning. During the investigation, authorities learned that Jennie was suffering from Alzheimer's disease and had a history of walking away from the care facility. The search for Jennie continued for several days and every reported sighting was followed up. Hospitals and Law Enforcement Agencies throughout California and Nevada were notified and both local and national media broadcast Jennie's picture and description to the public. Despite these efforts, Jennie was never located. The case was re-examined in early 1997, but by that time a civil action had been filed and involved witnesses were reluctant to speak with investigators. While no clear indication of foul play was ever present, the possibility was never eliminated. The 1997 inquiry revealed no new leads or clues and the case remained dormant. In 1999, Jennie was declared legally dead by the Court, High Sierra Manor eventually closed and the civil action was settled. No further information was developed and no remains have ever been identified.
Recently surviving family members approached the Police Department and asked us to re-examine the case and try to determine if we could develop any additional information. Based on recent developments in DNA testing, the establishment of national databases and other investigative research techniques, the Department agreed that the case should be re-examined.
Currently we have interviewed several Law Enforcement Officials who were involved in the initial investigation, some are still active and some have retired. We are also working to collect DNA from surviving family for analysis and comparison with samples in the national DNA database (NDIS), maintained by the FBI. While this database wasn't established until 1998, participating agencies throughout the US have been able to submit DNA samples of unidentified human remains. This type of investigative technology has come a long way in recent years and has been used successfully to develop leads and answers in many "cold" cases throughout the Country. We are also working with the National Missing and Unidentified Persons System (NaMUS) in searching their files for possible leads.
Because we were never able to clearly establish what happened to Jennie, she has always been considered a Missing Person but the possibility that there were other circumstances surrounding her disappearance has always been a consideration. The Police Department is asking that anyone who may have any information about the case to come forward. We understand that people may have been reluctant to talk at the time of her disappearance because of liability but we hope that anyone who can help will contact us. We would like to be able to establish what really happened to Jennie and give the family some closure. We also consider that if Jennie were the victim of a crime, those responsible need to be brought to justice and held accountable.
Anyone with any information about this case is asked to contact the Bishop Police Department at 760-873-5866 or WeTip at 1-800-78CRIME.   If anyone has any information that might help further this investigation, it would be appreciated. The family has indicated that they will offer a reward for information leading to a resolution of the case.