Sierra Wave Media received this authenticated announcement from the Bishop Paiute Tribe.
The Bishop Paiute Tribal Council signed a historic Memorandum of Agreement (MOA) with California Department of Fish and Wildlife (CDFW). This MOA reflects the understanding that the Bishop Paiute Tribe and CDFW exercise their own unique authorities to protect wildlife resources. CDFW
recognized that this government-to-government agreement is a productive and efficient way to honor the Tribe's effort to preserve its culture and well-being through the Tribe's tradition of hunting mule deer (genus Odocoileus).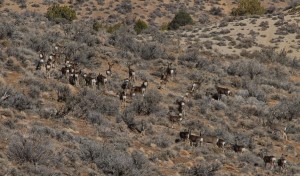 Mutually respectful discussion and negotiations by both entities has determined the final outcome of this MOA. Chairman Allen Summers proudly stated, "This is one of the biggest achievements the Tribe has ever accomplished. CDFW is one of the first state agencies to acknowledge the Tribe's testimony of why this MOA is crucial for the health of our Tribal community. The purpose of this agreement will ensure that the Tribe's cultural values will be sustained for future generations."

The MOA identifies the process for the Tribe to take up to 16 deer per year for cultural education purposes; twelve of these deer are designated for individual take and four can be harvested outside of the typical hunt season to further cultural education (CE). CE harvests will be preserved and utilized at culturally significant events. Most takes will be collected during the regular hunt season in areas: D7, D8, X9a, X9b, X9c, X10, andX12.
In addition, the Tribe has established internal policies to comply with the MOA's provisions. The Tribe's Mule Deer Hunting Policy and Procedure will outline the steps and components required to participate in the program as determined by this MOA. Tribal leadership anticipates the rollout of this hunting policy by Summer 2020.
Compliance is essential for the sustainability and preservation of our culture. Further information will beprovided to the Tribal Community in the near future. For more information please call the Bishop Paiute Tribe at (760) 873-3584 or visit our website at bishoppaiutetribe.com.
The Bishop Paiute Tribe is a federally recognized Indian tribe located on its 879-acre Bishop Paiute
Reservation in Inyo County, California. The Reservation was formed under Congressional Act 5299, P.L.
No. 43 of April 20, 1937. The Tribe is committed to the well-being of its people. For more informationplease contact the Bishop Paiute Tribe at (760) 873-3584.
ANNOUNCEMENT IS AUTHENTICATED:
For: Bishop Paiute Tribe Authorized By: Allen Summers Sr.
50 Tu Su Lane Tribal Chairman
Bishop, CA 93514 Bishop Paiute Tribe